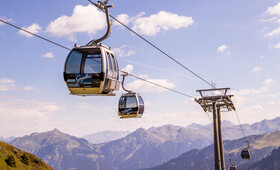 Gargellen - the place for all of us.
Above the roofs of the valley. The body is full of life, impressions and moments. Alone, as a couple, in company. Here everyone is on you and you. Surrounded by beauty, harmony, contemplation. On the way in clear heights, people and nature find each other, meet and merge. Openness, willingness and curiosity are rewarded.
This is how it works:
Choose a date and buy your ticket.
Afterwards you will receive a voucher by mail.
Download the voucher to your smartphone.
At the PICK-UP box on site you scan the code on the voucher.
You will receive your ticket.
Of course, you can also come to the cash desk (in the sport shop PME with your voucher or e-mail and pick up your ticket there!
Let's go: