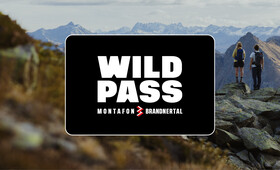 The Leisure WildPass enables you to access 16 attractive summer sports regions in Montafon, Brandnertal, Klostertal, Walgau and Paznaun/Samnaun (Tyrol).
The multi-day pass also includes access 9 public pools free of charge, 8 museums as well as public buses, trains and road charges of Silvretta-Hochalpenstraße.

Please bring along your guest card (if you are staying locally), so you can get the reduced tariff.
show more
show less
Validity (as soon as respective cable car companies have started their summer season.)
Gaschurn - Versettla cable car
St. Gallenkirch - Garfrescha lift
Schruns - Hochjoch cable car and Sennigrat cable car
Tschagguns-Vandans - Golmerbahn
Gargellen - Schafbergbahn Gargellen
Silbertal - Kristbergbahn
Partenen - Tafamuntbahn
Brandnertal - Lünerseebahn, Dorf- und Panoramabahn and Einhornbahn II, Palüdbahn
Bludenz-Nüziders - Muttersbergbahn
Klösterle am Arlberg - Sonnenkopfbahn
Schnifis - cable car Schnifisberg
Leisure WildPass services
The Leisure WildPass enables you to use the following recreational facilities on 3 to 14 consecutive days:
Cable cars and chair lifts in the Montafon, Bludenz, Brandnertal, Klostertal, the Seilbahn Schnifisberg in
the Walgau and the Seilbahn Sonntag Stein (during summer operating hours)

Public transport operating under the time-tables post office van routes in the Montafon, Bielerhöhe,
post office and local buses in the Brandnertal, Grosses Walsertal, Klostertal, Walgau to Feldkirch;
Montafon railway: Bludenz-Schruns and ÖBB (Austrian Railways): Feldkirch – Bludenz – St. Anton
am Arlberg. Also valid with the Tyrol Transport Association for the Silvretta – Kops connection.
Attention: Hikers busses and montafon night express are not included in the multi-day ticket.

Toll exemption on the Silvretta-Hochalpenstraße for the pass holder for trips made in private car/on
a motorcycle or bus.

Public outdoor pools (Alpenbad Montafon in Schruns-Tschagguns, Rätikonbad Vandans, Partenen
Pool, the "Mountain Beach" leisure park in Gaschurn, VAL BLU outdoor swimming centre in Bludenz,
"Aquarena" all-weather pool in St. Gallenkirch-Gortipohl, Braz swimming pool, Dalaas swimming
pool, Alvierbad Brand and Almpark Klösterle.

Museums - Gaschurn Alpine & Tourism Museum, Schruns Local Museum, Museum Frühmesshaus Bartholomäberg, Silbertal Mining Museum, Tschagguns Winter Sports Collection, Klostertal Museum in Wald am Arlberg, Bludenz City Museum, Paarhof Buacher in Bürserberg

10% discount on the regular price of round trips offered by Vorarlberg lines – Bodensee Shipping Company in the Bregenz bay and border triangle panorama trip.